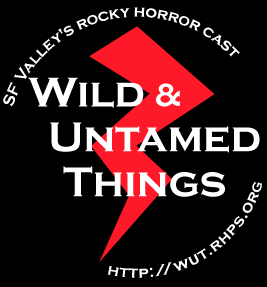 You can obtain cast merchandise at each show or write an e-mail to Sue at sue@wildanduntamedthings.com and we will be glad to send it to you, but then you will have to pay for shipping and handling.
Reasonably Priced WUT Merchandise
NEW WUT Stickers!$3
Two brand new designs available February 4th.
T-shirts $12 (pictured left)
This is a brand new batch of tshirts! High quality black cotton tshirts with the red and white WUT logo printed on the back only (logo pictured above). Mens Sizes: S, M, L, XL
Videos
For a copy of any show, please write to DEVO to obtain a copy. You will be charged.
Buttons or Magnets$3
-or two for $5
Prop Kits $2 (at the show only)
All merchandise is while supplies last, so get yours now.
We strive to bring you unique stuff; currently customized tshirts are in the works.
Mike's Riff Raff Wig Caps
Mike, WUT's Riff and Rocky, crafts and sells custom Riff Riff wig caps (pictured here. Please email Mike at weaselboy1111@hotmail.com for pricing and availability.

thomas for WUT 08.25.06